Plant Kitchen: The New Vegan Range by Marks and Spencer
As you may already know, Marks and Spencer launched their 100% vegan range, Plant Kitchen, at the beginning of January this year. I was lucky enough to be invited to their Plant Kitchen Street Food Festival on Thursday, which was a small event where we could try any dish from the new Plant Kitchen range.
I don't even know where to start or what to say first, but in short, wow. Or more accurately, WOW (imagine that's underlined approximately three million times).
M&S's Plant Kitchen will without a doubt be my new go-to; I'll even choose to go to M&S over ordering a takeaway, I love it that much.
Not only did the event set-up look amazing (the room was bursting with plants, so I felt like I'd just come home!) but the food was incredible and far more varied than I thought it'd be. M&S have everything you could possibly need, from Cashew Mac n' Cheese and BBQ Pulled Jackfruit Pizza, to Sweetcorn and Chickpea Burgers and Wholegrain Salads. Whatever you feel like eating for dinner, M&S probably have it. There's also a Roasted Mushroom Stroganoff, Green Thai Curry, Roast Aubergine, Cauliflower Popcorn (i.e. heaven), No Pork Sausoyges, a No Beef Burger, a Sweet Potato Biryani Wrap, Lasagne, a Rainbow Veg Sushi Wrap, No Chicken Nuggets, a Roasted Veg and Avocado Sandwich, No Meat Meatballs, Teryaki Tofu, an Apple and Peanut Butter snack pot… honestly, the list goes on forever. Oh and Coleslaw (!!), which they spent four years developing. No wonder it tastes so good!
On top of that, the pricing is brilliant considering how delicious the food is and how long M&S spent developing all of it. The pizza for example is only £3.50, the cauliflower popcorn is only £3, and the mushroom pie is only £2.
The Plant Kitchen is not just a vegan food range, but something that has put an end to the excuse "it's too difficult to eat vegan".
Feast your eyes on the photos below... I wish I could have tried every single one, but there was so much that I genuinely couldn't eat any more than I did. For the first time ever, it was Ally 0, Food 1.
See what I mean by the incredible set-up?! There were vegetables and plants everywhere. Love love love!
And now to show you the incredible range... take it all in.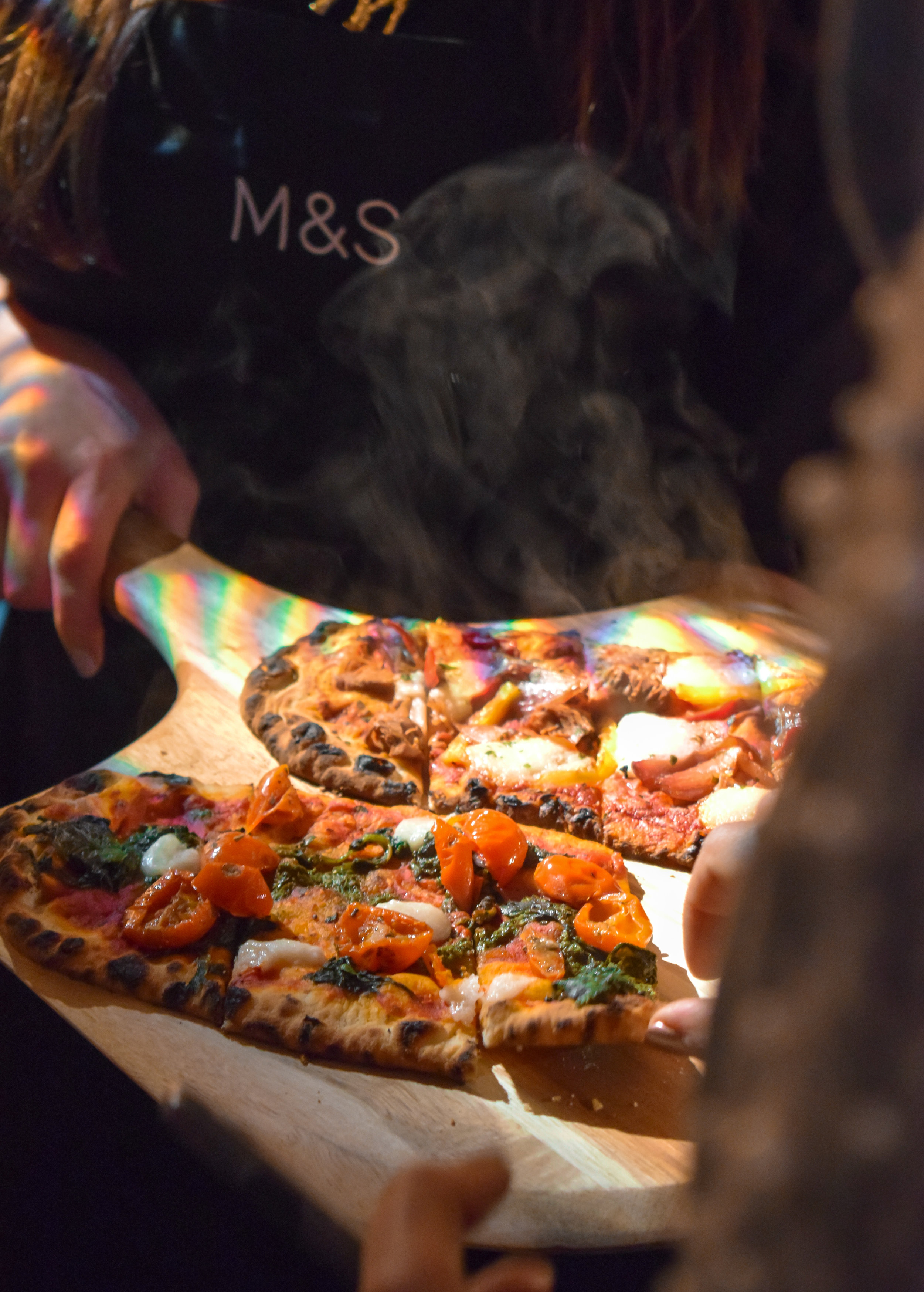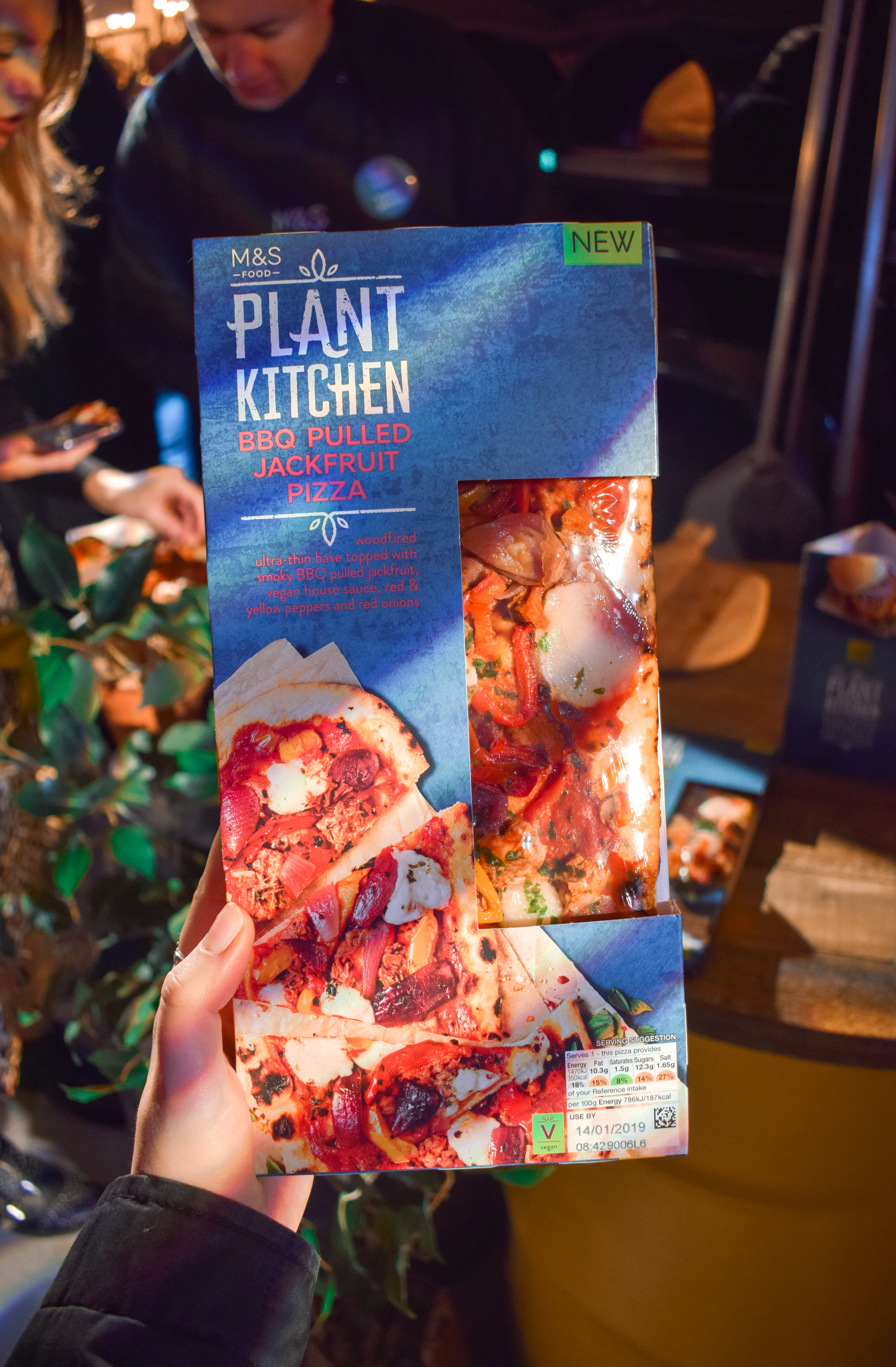 I was also lucky enough to be sent home with a few of the dishes I loved the most, including the cauliflower popcorn, coleslaw, burgers, wholegrain salads, cashew mac and more, so expect to see a fair few photos of them over the next couple of weeks. Yum!
I've already dug into the coleslaw, wholegrain salad and the cashew mac, photographed below. The coleslaw is just as I remember non-vegan coleslaw being, if not better and healthier. And the cashew mac… well, it's cashew mac plus mushrooms and a crunchy topping. So in other words, it's heaven in a pot!
I cannot recommend this range enough, so I hope that the photos above have made you want to give the new range a try. I loved it all ten times more once I'd tried it! If you want to pick out a few to try rather than going all out haha, the below are my top five favourites…
Cashew Mac

Coleslaw

BBQ Pulled Jackfruit Pizza

Cauliflower Popcorn

Roasted Mushroom Stroganoff
Enjoy! Let me know what your favourites are in the comments below or over on Instagram. You can find the Plant Kitchen range in your nearest M&S store, so go and have a look to see what takes your fancy.
Sending lots of love to you all,
Ally x